Filmed in Charlotte, North Carolina, the independent thriller Fare will have its world premiere screening this month at the Newport Beach Film Festival. 
Fare takes place entirely inside a taxi cab, where the main character, the driver, goes about his day, until an unexpected passenger changes everything and the evening takes a dark turn.
Bad Theology Pictures is excited to announce the world premiere of Thomas Torrey's Fare. The tense thriller will screen for the first time at the 17th Annual Newport Beach Film Festival, at 8:30pm on Tuesday, April 26th at Island Cinemas in Newport Beach, California.  
Filmed entirely inside a moving car over three days, Torrey's debut feature follows a cab driver whose chance encounter with a passenger spirals into a night of darkness, as Fare explores the darkest depths of love, betrayal and the fight for a committed relationship.
Ride-share cab driver Eric begins his day like any other, responding to the many fares of the city that hail him from their smartphones. Hiding his depression due to a marriage that has long grown cold, Eric entertains small talk and discusses his "real job" of real estate. He even finds his own notions of love and marriage challenged by one fare in particular.
As Eric's day turns to night and he takes one last fare, he finds himself face to face with the source of his troubles. When Eric recognizes this passenger as the man who is secretly sleeping with his wife, events are set in motion that threaten the lives of everyone who sets foot inside the car.
Starring writer/director Thomas Torrey, Katherine Drew, J.R. Adduci, and Pat Dortch, Fare will have its world premiere screening at the Newport Beach Film Festival on Tuesday, April 26 in Newport Beach, California, with a Q&A with the director and the entire cast scheduled to follow the screening.
You can watch the official trailer for the film in the player below!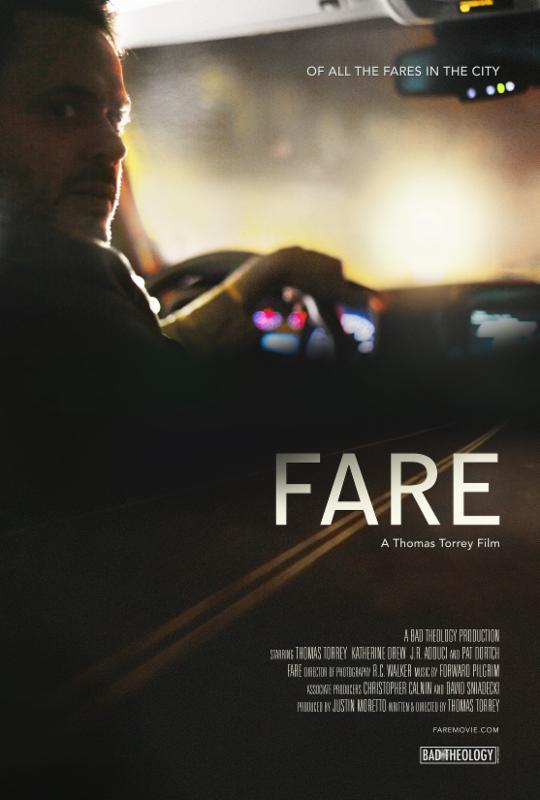 ______________________________