If you happened to drop by Gastonia City Hall on Tuesday, you probably got a glimpse of Oscar award winner Helen Hunt filming scenes for the upcoming Fox series Shots Fired, a drama featuring a fictional North Carolina town in turmoil after a racially-charged shooting, which will premiere on the Fox network this fall.
Evan Showler, a Gaston County native, is an assistant location manager for the show. He recently told the Gaston Gazette that he relishes the chance to work on productions in his hometown.
"We love being in Gaston County," Showler tells the outlet, which reports that Gastonia City Hall will serve as Gate Station City Hall in the production.In the scene being shot Tuesday (pictured below), some of the fictional city's prominent figures, including Hunt's character, address reporters about the unrest in the community.
Other members of the cast for the miniseries include Sanaa Lathan, Stephen James, Richard Dreyfuss, and Stephen Moyer, as well as Tristan Wilds, Aisha Hindns, Clare-Hope Ashitey, Alicia Sanz, Edwina Findley, Marqus Clae, and Shamier Anderson.
Hunt, who has signed a one-season deal, portrays Patricia Eamons, the fictional governor of North Carolina.
Dreyfuss plays Arlen Cox, a real estate mogul and owner of a privatized prison who is intricately involved in the shootings.
Moyer plays Officer Breeland, a seasoned veteran in the town's Sheriff's Department, who gets caught in the middle of the investigation.
Sanaa Lathan stars as an expert investigator who digs into the cases, alongside a special prosecutor played by Stephen James who sent to the town by the Department of Justice, to seek justice before the divided community erupts into violence.
Tuesday's filming was for the first of 10 episodes, all of which will be filmed in North Carolina except for a few clips in Washington, D.C., Showler said.
Shots Fired will film scenes at Adventure Landing in Gastonia, North Carolina on Thursday.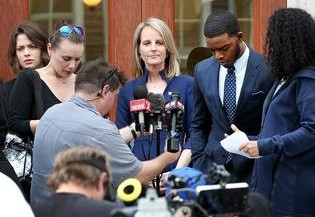 ______________________________